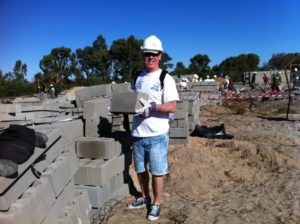 Coast Communications and 20 of its fellow agency partners in the PRGN network made a $7,000 payment to the Niall Mellon Township Trust, non-profit, building homes for impoverished families in Cape Town, Witsand. As part of that donation, a group of PRGN volunteers participated in the building of the PRGN House on April 18. At the end of the day, the keys were handed over to an overjoyed family.
Coast Communications volunteers and its PRGN colleagues spent the day working on site. It was joyful work with hard hats on under the African sun.
"Despite our hard work this is of course just a small step, says Karl Rickhamre, Coast Communications, a PRGN member since many years. "We have handed the keys to the family. To see Niall's houses build up a new area where there previously only have been shacks was an extraordinary feeling."
PRGN joined the Niall Mellon Township Fund based in Dublin. Since 2003 Mellon has built more than 20,000 homes that have moved local families from shacks to three-room homes.
For more information, please contact:
Camilla Englund, Coast Communications
+46 8 402 98 84, camilla.englund@coast.se
Photos available at Mynewsdesk;
http://www.mynewsdesk.com/se/pressroom/coast_communications_ab/image/list
Coast Communications
Coast Communications was founded in 2001 and has its own operations in Stockholm and Copenhagen. The agency focus on Public Affairs and Investor Relations and was voted "Best Agency" in Sweden by its clients in the country's leading trade magazine, Resume, year 2009 and nominated for  the Columbi Egg award for its CSR work later same year. Since 2006 Coast is a proud member of PRGN.
Public Relations Global Network, Connected Thinking. Globally.
With revenues of more than $110 million (U.S.D.), PRGN is among the world's top four international public relations networks.  PRGN harnesses the resources of 41 independent public relations firms, 65 offices and more than 900 communications professionals to connect international companies and organizations with individual and culturally diverse markets globally. Visit PRGN online at:  www.prgn.com