Known as the Venice of Scandinav
ia, Stockholm, literally means island build on wooden piles. It once may have been built on muddy ground, but today has a rock-solid reputation as the media capital of Scandinavia.
With events like the Noble Prize and historically the base for super celebs such as film director Ingmar Bergman, actor Ingrid Bergman, evergreen pop stars ABBA, tennis matador Bjorn Borg and fictional heroine Lisbeth Salander in Stieg Larsson's epic The Girl with the dragon tattoo, Stockholm no doubt provides a splendid platform to create fame on.
Even modern tech based firms such as Skype and Spotify as well as digital game Minecraft, first saw light under the sparkling stars of frosty Stockholm's sky.
For those who want to look like an insider in this small but cosmopolitan two million inhabitant's city, situated at the brink of the habitual world, here are some top factors for navigating in Stockholm's PR scene:
Watch your tongue!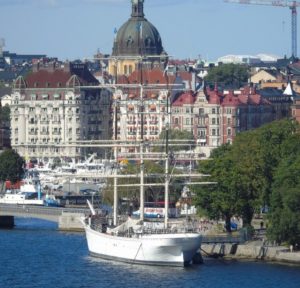 Built by Vikings the tradition in Stockholm demands you to first make a grand voyage and work for long period of time in remote places, before you are ready to make it back home. When you return from your long odyssey – the more accent you've picked up and the less you remember of your native language Swedish, the better. This counts especially in PR.
Remember to avoid Swedish words like – pressmeddelanden – instead say, press release. Make sure not to use Swedish vocabulary such as – talesperson. Better is spokesperson, etcetera. At the same time, you had better to still understand and write Swedish well, otherwise you soon will be lost here.
Bike is what we like   

A true Stockholmer, not at least in the PR-business, will pay attention to
her/his vehicle. Forget about a car. Also avoid taking a walk from the nearest tube station or bus stop.
The way to arrive in style in Stockholm is on a bike. It doesn't matter if you visit the Wallenberg family's head quarter on Blasieholmen or Karolinska hospital outside town. If you strive for a win, arrive on time, and arrive on a bike. Don't forget to wear a helmet, otherwise the positive bicycle-effect will vanish.
Pay attention 
Since Stockholm is now a multi-culture northern hub, let's check and be more careful with the spelling of people´s names. It was easier in the good old days when half the town was called, Svensson and the other half, Johansson. Today, some "typical" names of Stockholm are Zivanovic, Zorondrai, Dubois …or whatever. If you want your smart PR-emails to come across, you better pay attention to how people really spell their names!
Don't bother to be hip
Stockholm has a reputation of a cold climate, a boring scientific attitude and strong bureaucracy, which pretty accurate mirrors factuality.
Thus, let´s forget about your hip PR-efforts. This is the place to enthusiastically explain complicated matters such as the logics behind digital technology, biotech research and macro-economic issues. All within Nobel Prize awarded disciplines.
Spare time activities – crucial to your PR effort
To keep warm you do the sports. It's of great social importance to share with colleagues how you spend your free time (sports not theater)
Be generous with your experiences from your last skate, hike or jogging session. Also allow time for clients to give lengthy and detailed descriptions about their sporting activities since you last met (probably one week ago).
Never fall into the trap of the comfortables, saying something like, "Nah, we just chilled over week-end, relaxed at home". In the world of PR in Stockholm's that is a code for you being in a condition not able to make it out of your own door. That does not impress on anyone. At least claim a walk in the park.
Journalists care about facts
Never check out a good story. This proverb, often attributed to American writer Mark Twain, is so often quoted by people outside professional media that many think it is a code of conduct among reporters. It is…NOT.
Anyone served as a reporter in professional media knows the working order. Planning takes 10 percent of your time, phone calls, interviews and collecting material 20 percent, writing 30 percent. And the rest 40 percent (Check that!) is dedicated to check facts, check them again and then, finally, check on the story once again.
To keep your PR-business thriving, Stockholm is no different than other places in the world. Be informed, never misguide, be trustworthy and be clear about when you make a joke and not – there is nothing wrong with satire, but keep it away from hard news and facts, why don't you save it for your byliner.
About the author: As the president of Coast Communications AB, a communications firm based in the centre of Stockholm and the Swedish partner agency for PRGN, Karl Rickhamre has called Stockholm home for more than 20 years (after having made his own long journey to England and Belgium as a television correspondent for many years). (www.coast.se)